Event date
Start time
1:30 (pm)
Event description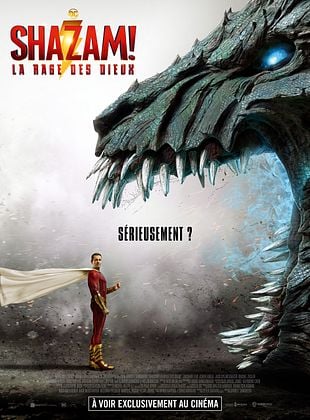 Durée : 2h10
Suite des aventures de Billy Batson, ado capable de devenir un super-héros adulte lorsqu'il prononce le mot "Shazam !".
Investis des pouvoirs des dieux, Billy Batson et ses copains apprennent encore à concilier leur vie d'ados avec leurs responsabilités de super-héros dès lors qu'ils se transforment en adultes. Mais quand les Filles de l'Atlas, trio d'anciennes déesses ivres de vengeance, débarquent sur Terre pour retrouver la magie qu'on leur a volée il y a longtemps, Billy, alias Shazam, et sa famille s'engagent dans une bataille destinée à conserver leurs superpouvoirs, à rester en vie et à sauver la planète. Mais une bande d'adolescents peut-elle vraiment empêcher la destruction du monde ? Et, surtout, Billy en a-t-il seulement envie ... ?
Multiple registration possible?
Maximum slots available
YesEx: John (+2)
5
Exact address
meeting location
To know the exact rendez-vous point, log in!
To know the exact rendez-vous point, log in!

List of registered members
(1/5 , available: 4)