La malédiction de la dame blanche
Event date
Start time
4:40 (pm)
Event description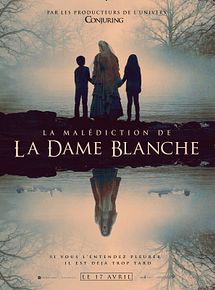 Durée : 1h34
Interdit aux moins de 12 ans
La Dame Blanche. Spectre terrifiant, pris en étau entre le paradis et l'enfer, piégé par un terrible destin dont elle est elle-même l'artisan. La seule évocation de son nom sème la terreur dans le monde depuis des siècles. Quand elle était en vie, elle a noyé ses enfants dans un accès de folle jalousie, puis, dévastée par le chagrin, elle s'est jetée dans le fleuve déchaîné.
Désormais, ses larmes sont devenues éternelles. Elles sont même mortelles et tous ceux qui entendent ses appels sinistres la nuit sont maudits. Tapie dans l'ombre, la Dame Blanche s'attaque aux enfants, cherchant désespérément à remplacer les siens. Au fil des siècles, elle est devenue de plus en plus prédatrice… et ses méthodes de plus en plus terrifiantes.
Los Angeles, années 1970. La Dame Blanche hante la nuit… et les enfants.
Ignorant les avertissements d'une mère soupçonnée de violence sur mineurs, une assistante sociale et ses enfants sont projetés dans un monde surnaturel des plus effrayants. Pour espérer survivre à la fureur mortelle de la Dame Blanche, leur seul recours est un prêtre désabusé et ses pratiques mystiques destinées à repousser les forces du mal… à la frontière où la peur et la foi se rencontrent…
Méfiez-vous de ses pleurs glaçants… Elle est prête à tout pour vous entraîner vers les ténèbres. Car sa douleur ne connaît pas de répit – son âme tourmentée n'a pas droit au repos. Et il n'existe aucun moyen d'échapper à la malédiction de la Dame Blanche.
Multiple registration possible?
Maximum slots available
YesEx: John (+2)
5
Exact address
meeting location
To know the exact rendez-vous point, log in!

List of registered members
(1/5 , available: 4)